Product Description
The Gemma, is a hand-made geometric glass ceiling light.
Two shapes - the cube and the octahedron - become aligned with one's soul purpose and desires. A solid form inspired by the cube and diamond shape of the octahedron.
________________________________
Size: 35cm x 35cm
24 equilateral triangles 24 isosceles triangles
Dichroic glass
________________________________
This pendant light has been carefully hand-crafted in our Studio in Bangalow, Australia, with the designs incorporating the principles of Sacred Geometry, bringing balance to your space.
_____________________________________
INSTALLATION OPTIONS
The Gemma is supplied, ready to be fitted by your electrician with:
* 1 metre of clear cable
* one halogen low pressure globe
* a chrome pendant fitting
Alternatively, your Luminary Pendant light can be displayed in a custom-made stainless steel stand. The electrical cable comes concealed in the stand for a seamless effect.
- Please note that the stand is not included -


_____________________________________
ABOUT THE DESIGNER AND CREATIVE


Esef Toyak is a geometric glass art visionary. His glass sculptures and geometric pendant lights adorn spaces around the world.

His pieces are most known for their unique and mesmerising reflections. Made of the highest quality materials, Esef is world recognised for his art and creates each piece with perfection and grace.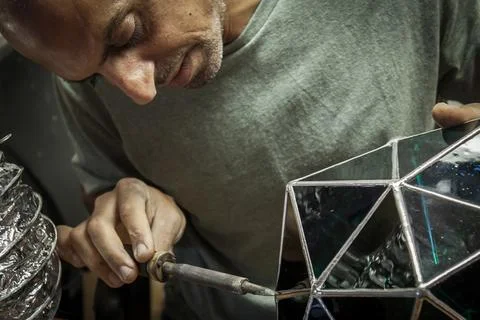 For information on lead times, packaging and other FAQ's, please click here.

Please note we do have Paypal payments. We also have lay-by options that can be arranged by directly contacting the gallery.


SHIPPING IMFORMATION
Our goal is to offer you the best shipping options, no matter where you live. We deliver to hundreds of customers across the world every day, and we strive to provide you with services of the highest level.
The time frame of an order delivery is divided into two parts:
Processing time: 1-2 working days
Shipping time: 7-15 workding days
- COMPLETE YOUR HOME -