Turn your home into a galactic paradise

Have you always wanted to go to space? Intrigued by the mystery of what is out there? We have good new for you - you don't have to pay $100, 000 to travel to space with elon or get a space ranger license like buzz light year and fly to infinity and beyond.
Meet the galaxy moon lamp, crafted by our space rangers themselves and designed using nasa grade satellite images to replicate the beautiful moon. The galaxy moon will catch anyone and everyone's attention when the walk in the room.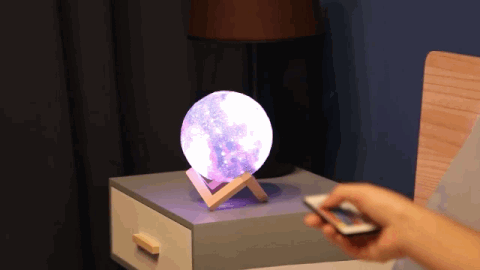 Rechargeable
personal planetarium

.

A rechargeable battery keeps the galactic vibes going for up to 10 hours, just charge ti for 1 hour and boom.

16 color tones in one lamp!
Each galaxy lamp can be adjusted to almost any color of your choosing, including a slow, soothing fade from color to color! You can use the remote to adjust brightness & toggle easily through all 16 colors!
The perfect gift!
Our galaxy lamp makes the perfect gift for both kids & adults alike. Transform your loved one's bedroom into an ambient planetarium with this enchanting & soothing piece of art.
Add a little bit of magic to your room at night while you're reading a book, having tea or simply admiring the beauty of the galaxy before bed.
Specifications
16 colors, adjustable brightness, 3 different lighting modes
Material: 100% eco-friendly abs
Charging time: 2 hours with included usb charger
Working time: up to 8 hours battery life (Or use while plugged in)
Get the original galaxy lamp!
Recently a little birdie has emailed us that there has been phonies trying to sell very low quality versions of our galaxy moon lamp. Do not be fooled to spend your hard-earned money on poorly made replicas that will probably break and not work i a matter of minutes. Stores like these are known to not have money back guarantees, so save and protect your money by investing in the only original galaxy moon lamp. This is the only way to get a quality galaxy lamp that you deserve! If you do see anyone trying to rip us off and sell counterfeit galaxy moon lamps either online or offline, please report them to swavyglow. Com
Remember - swavyglow is the only authentic manufacturer and distributor of the original galaxy lamp. Turn your home into a nasa paradise, or give an unforgettable gift, by placing your order today. Stock is limited - avoid disappointment by bagging your galaxy lamp right now!